Writing with FF Mister K Onstage
A special event: Mister K is on stage. His texts show off calligraphic features with elaborate details in individual glyphs, especially the capitals. Swashes appear at the word endings and frequently ornaments decorate the page. – Mister K wants to be sure to make a good impression.
A letter-partner for every letter
Onstage characters are less connected than those of the Regular. So not so many ligatures are needed. Instead, each letter has a terminal partner to highlight the endings of words. OpenType-feature "Contextual alternates" determines correct positioning for them and for other alternate glyphs.
Decoration for party mood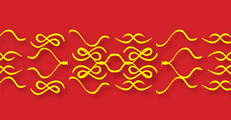 Want to create a festive atmosphere – seriously or ironically? Onstage ornaments let you put it on just as thick as needed for the guests you plan to invite! Select ornaments from the glyphs window and use them repetitively or as single elements.
OpenType matters
Have you got texts where numbers, formulas or acronyms play a major role? FF Mister K Onstage and Regular help out with special OpenType features to make things easier and look right.