FF Mister K — a type family.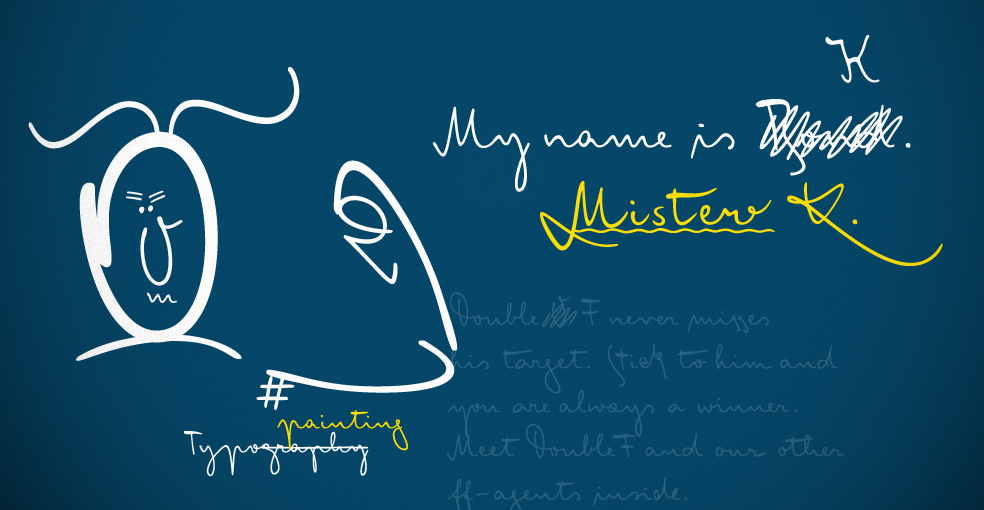 FF Mister K is a type family and the visualization of a personality. It is inspired by the unique handwriting of Austro-Hungarian writer Franz Kafka and one of the main characters of his novels. Mister K was born in Kafka's novels … and today is leading his own life as a typeface. Learn more
What's new in the Mister K Family?
Mai 2016

Mister K's Informal is delighted to partner with Switzerland's "Walder Schuhe". Branding by Leo Burnett Schweiz

February 2016

Mister K begins a career at Helsinki Airport greeting arriving passengers with "Moi Helsinki".

2nd November 2015

Mister K featured in MACLEAN'S, "The decline of handwriting? Chalk it up to marketing." by Kate Lunau

November 2015

3rd June 2015

Mister K featured in The Wall Street Journal, "In a True Metamorphosis, Fonts Turn Kafkaesque–Einsteinesque, Too" by Sarah Sloat

23rd March 2015

Mister K featured in MyFonts' "Creative Characters" with Jan Middendorp and Juliasys

11th March 2015

Exhibition Opening: Kafka in artists' books. Deutsches Buch- und Schriftmuseum at the German National Library (Deutsche Nationalbibliothek) in Leipzig.

5th December 2014

4st September–6th November 2014

Franz Kafka's and Emily Dickinson's handwriting fonts in a dialogue. Quotes materialized in two and three dimensions.

June 2014

Was featured in the Third Edition of "Stop Stealing Sheep". Big thanks to Master Erik Spiekermann.

June 2014

Please welcome the two new web friendly family members: FF Mister K Splendid Regular and Light, released by FontShop International.

A perfect semi-perfect typeface pair inspired by Kafka's description of two high spirited Danish friends. With a simplified feature code, clear outlines and large counters especially suited for the Web.