FF Mister K — a type family.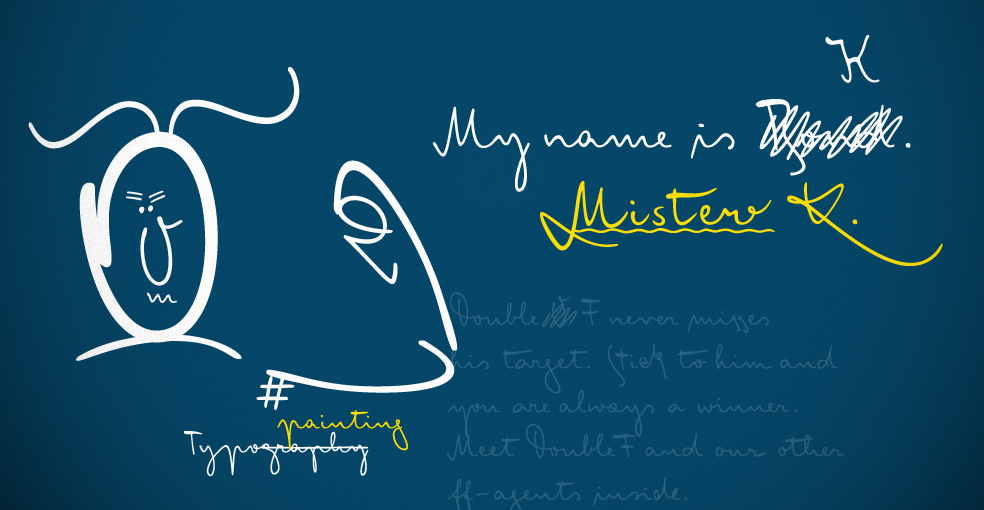 FF Mister K is a type family and the visualization of a personality. It is inspired by the unique handwriting of Austro-Hungarian writer Franz Kafka and one of the main characters of his novels. Mister K was born in Kafka's novels … and today is leading his own life as a typeface. Learn more
What's new in the Mister K Family?
June 2014

Please welcome the two new family members: web friendly FF Mister K Splendid Regular and Light, released by FontShop International.

June 2014

FF Mister K Dingbats became a part of FF UI Icons pack – the first FontFont collection of specially designed user interface icons.

November 2013

September 2013

Cyrillic update for FF Mister K Regular and FF Mister K Informal, released by FontShop International.

July 3rd, 2013

May 2013

K Dingbats on banknotes of Europe's most crisis resistant currency the Iggesund Daler.

February 2013

Mister K finds himself on the logo of the new Berlin nobel design hotel "Das Stue".

December 2012

Mister K featured by Grafia, the prestigious Association of Professional Graphic Designers in Finland

21st September–9th November 2012

A storytelling writer and his storytelling handwriting:
An installation of the typeface Mister K.