FF Mister K Onstage
Drawing pictures with Mister K Dingbats
FF Mister K Dingbats are the latest offspring of the Mister K family. It started with Finnish illustrator Oili Kokkonen creating hilarious cartoon characters just using letter forms of the Regular. Soon after, the design of almost 600 pictograms was on its way. All of them – from rabbit to football and Eiffel tower – are based on parts of FF Mister K Regular with which they make a perfect match.
FF Mister K Dingbats are grouped according to topics. In the glyph window of Indesign and Illustrator all 596 of them are arranged in the alphabetical order of the following 10 topics: animals & plants; cities & countries' flags; dingbats; food & dishes; household & garden; leasure, sports & vacation; office, technics & work; people; transport; weather.
There are 3 ways to get at Mister K's Dingbats:
Keystroke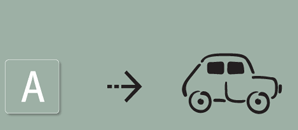 Keystroke: Hit a key on the keyboard and most likely an animal, a car, building or something similar will appear on your screen.
Easy, but like this you can enter only 72 pictograms out of 596, and the ones you are looking for might not be obtainable in this way.
Keycode
All 596 pictograms have a keycode (a letter followed by a double-digit number). To make it easier to remember, keycodes start with the first letter of the topic the dingbats belong to (example: a=animal / a03 = butterfly).
Write the code, and the pictogram appears in the text box your cursor is in. (Standard Ligatures turned on.)
Glyph Window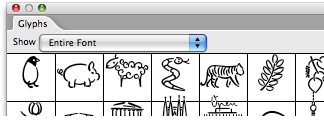 Open the glyph window:
• in InDesign and Illustrator: Type › Glyphs
• in QuarkXPress: Window › Glyphs
• in TextEdit: Edit › Special Characters.
Here you can access all 596 of them, collected in accordance with the theme groups. Keep your cursor in the text box and double click an icon in the glyph window to insert it.
Working with Mister K Dingbats
Background? Frame? Checkmark? Get the same natural look as in FF Mister K text fonts – just hit the key for the elements you need or select them from the glyphs panel – and they appear one beside the other in the text box.
First select the elements you want to combine…
Then apply colour to every element…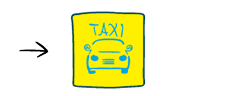 Activate Stylistic Alternates: The selected elements slide over each other.
596 Dingbats. Meet them all.
UI Dingbats

Fin.